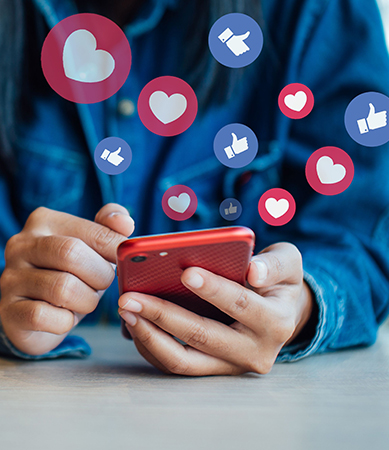 If you are looking for a social networking website development company in India that is known for its proven PHP-based social networking platform development strategy, then
Best CakePHP Team
remains the best bet for clients around the world. Social networking is an excellent means for brands to interact with their target customers, while also ensuring a brand boost through quality Social Networking Web Design Solutions.
We are a chief social networking website development company India not just for our unmatched experience, but also for our past accomplishments as a web company India where we have previously devised visually stunning social networking sites that are feature-rich, all-device compatible, robust, dynamic, and most importantly, SEO friendly. So basically, as a topnotch social networking website development company India, we can do it all, including offering the Social Networking Web Design Solutions that help attract more eyes to your brand. Our PHP-based social networking platform development approach is known for its efficiency and super-fast deployment.
PHP is the best open-source platform out there, so it's only natural that for the best deployment of social media websites, we need to harness the incredible power that PHP bestows upon today's web developer. Hence, our social networking website development company India highly-acclaimed in the way of growing your business and going socially active amongst your relevant customer demographic. With the scary expansion of the internet over the years, it's no secret that a huge chunk of your target customers is engaging over social media on a daily basis, especially across major platforms such as Facebook, Twitter, Instagram, LinkedIn, Snapchat, etc. which is why to improve your chances at gaining their interest, you ought to consider integrating social media channels within your site, and we help you massively in that regard. It is the main alternative to arrive at your end-clients successfully. Our Social Networking Web Design Solutions are known to attract customers by elevating the level of user engagement via social media. We design PHP-based websites that are compatible with major social media platforms and help your customers directly be logged in to your selling store by submitting their social media account details. This saves them time, while making the site look more complex and engaging, ingredients that the modern customers expect from their preferred online shopping stores. With our experience, we make the site highly mechanized, easy to use, dynamic, and notable among the objective network. Best CakePHP Team is a pioneer amongst social networking website development company in India that can serve all your custom-made demands. We assist you with associating your possible clients and furthermore help turn your site mainstream among the relevant target audience. We have a calculable measure of understanding and capable group for online network development services to address every one of your issues.